Title: Impossible: My Story
Author: Stan Walker
Publisher: HarperCollins
Rating: 4.5/5
Reviewed By HAZEL REID
You may know Stan Walker for his soulful music which has reached far beyond where he currently calls home (Aotearoa), or perhaps seen a glimpse of Stan's story in his 2017 documentary, or even as the 18 year old who won Australian Idol in 2009.
Stan Walker's story goes far beyond his music as you will read in his book, Impossible: My Story. I've just finished it as I write this and I won't sugarcoat it, it was hard in certain parts to read. In the scope of some of the things he's experienced, I could describe in one word as horrible. I understood by the end of the book that Stan's upbringing had similarities to a lot of others, he often mentioned the phrase 'by-product of a by-product.' It is a sad reality to read about but I believe people sharing their lived experience stories like this could help in making people feel less alone and assist in advocating for change.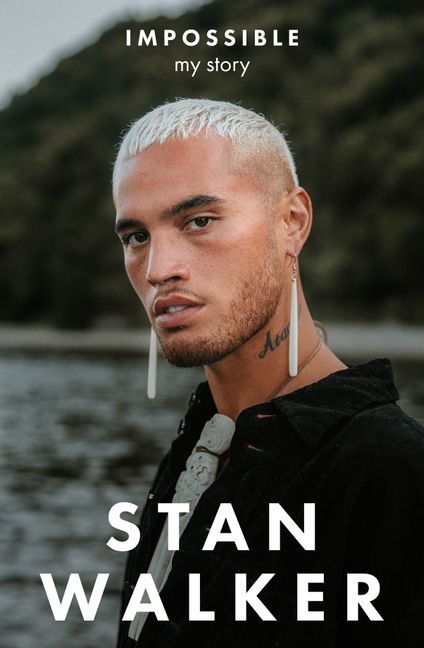 Stan begins the book where it all began, when he was thrusted into the spotlight as an 18 year old on Australian Idol and the Aussie public truly fell in love with his natural raw talent. As I was reading his stories about being on Idol, I went online and searched for those videos from the 2009 broadcast of the show and I was reminded why he won. For Stan, he linked it to doing it for his family/for his people – "I saw that on the night I won Idol. My voice is a healing tool. I'm helping to bring our family closer." Stan details his whirlwind start in the music industry, giving readers a honest behind-the-scenes look at the large reality competition.
Stan repeatedly emphasises the importance of his whānau throughout the book, regardless of the challenges he was faced with during his upbringing from some of them – it is admirable that he is able to talk about this so openly, out the other side and holds a positive view point, sharing his learnings through his charity work. "I do what I do for my people, so that what happened to me doesn't happen to others."
I recall seeing the documentary Stan did in 2017 (simply titled 'Stan') at the Doc Edge Film Festival – so I was able to see it on the big screen at Q Theatre before it was screened on TV Three. He mentions that when he found out about the stomach cancer, he wanted it documented whatever the outcome was – this explains why it was so raw and open, so it's no surprise that this book has seen Stan open up even further to utilise his platform in an incredible way, by sharing his journey.
Although Stan is in a better place in his life now, he acknowledged that his past is still his past – the triumphs, the negative experiences, the thoughts – it's not going anywhere but now he sees it as a choice of how to deal with them in the now. "On my side is the fact that I have the DNA of warriors in my blood", Stan says, admitting that he is challenged with his own mental health issues to this day and keeps trying every day to overcome them, 'change takes time, step by step by step.' Stan may not see himself as brave, but he is, for being this honest and opening up what could be old wounds in an effort to share with others. "I found out how to be the Stan Walker I want to be."
Stan's book gives readers an opportunity to learn more about his journey – it is well written and a great read. I'll share a bit of his summary of his journey so far: "I am the impossible made possible; I am the example that proves change is possible. I can't change what happened in the past, but I am who I am today because of all that I have been through. I wouldn't have chosen the things in my past, but it's all part of my story".
Stan Walker's 'testimony', a.k.a. his raw journey in book-form, Impossible: My Story is available now in book stores and online.
---
From tour managing boybands to working massive events and interviewing international talent, HAZEL REID is in love with the craziness that is the entertainment industry.

Read more by Hazel:

SHARE THIS POST...
FOLLOW US...