IT'S CHRISTMAS TIME. Almost anyway. And what does everyone do on Christmas? Catch up, eat lots and share gifts with family and friends? Well, yes, but don't we also sit around lazily and watch TV?
Here are 9 top-notch Christmas-themed episodes to really get you in the spirit.
#1. Spongebob Squarepants – Christmas Who?
Awww. It's Bikini Bottom's first Christmas. After Spongebob learns from Sandy what Christmas is all about, he goes around spreading the news and getting everyone in on the Christmas action. After an all-night vigil, Santa is a no-show, but Squidward, of all people, steps in and saves the day. Aw, Squidward.
#2. Scrubs – My Own Personal Jesus
This Christmas episode of Scrubs is Scrubs at its best; it takes on serious issues with care and respect, but is also still as funny and out-there as every other of Scrubs' 182 episodes. Turk has his faith shaken, while Elliot needs to help a woman who didn't realise she was eight months pregnant.
#3. Chuck – Chuck Versus Santa Claus
In an homage to Die Hard, this ep of Chuck sees a hostage situation go down at the Buy More, which is decked out in all of its Christmas regalia. While at first it just appears that the hostage-taker is a desperate father who wants presents for his kids, in reality he is a Fulcrum agent who, along with his accomplice the police negotiator, wants Chuck and the intersect in his head. Not the most feel-good Christmas episode, but a damn good one.
#4. Happy Endings – Grinches Be Crazy or Ho Ho No
Yes, two episodes. In reality you should watch every single episode ever produced of Happy Endings, the show that only got better with age until ABC pulled the plug. Look at them all dancing with Hip Hop Santa.
#5. The Big Bang Theory – The Bath Item Gift Hypothesis
The one in which Sheldon receives a napkin that not only has Leonard Nimoy's signature, but also his DNA – and he proceeds to break down with joy.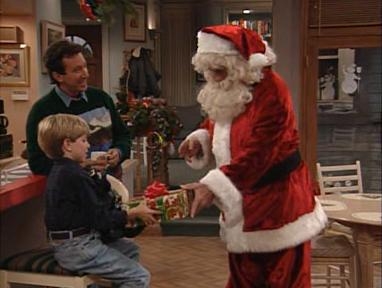 #6. Home Improvement – Yule Better Watch Out
The first time we see Tim 'The Tool Man' Taylor deck his house out in a ridiculous number of Christmas decorations and almost burn the house down to the ground. There is nothing like a good classic sitcom to get you in the Christmas spirit.
#7 The Fresh Prince of Bel-Air – Christmas Show
Will, Carlton, Hilary and Ashley are robbed by a particularly non-threatening looking individual (it's always those you don't suspect) and have all of their Christmas gifts stolen. But of course, even though they have no presents, the Banks still find a way to have a great Christmas.
#8. Bob's Burgers – God Rest Ye Merry Gentle-Mannequins

After Bob inherits a storage locker, he hopes they will strike it big. Instead they find a squatter named Chet who claims to have once been a store mannequin. The Belchers take him in and find that he has a knack for creating window displays. However, Chet becomes depressed as Christmas draws closer, as he is separated from the love of his life, a fellow mannequin.

#9. Community – Abed's Uncontrollable Christmas

Stop motion. Christmas. Community. Dan Harmon. Enough Said.

SHARE THIS POST...
FOLLOW US...